Archive for 'family'
What a special treat to get to meet the D family, and photograph them at home with their newest addition <3
What a fun evening spent with these two adorable kiddos!  I had a blast chasing them around in this beautiful field full of bluebonnets.  Spring is gorgeous here in Texas, isn't it?
There are few things sweeter than seeing a mother with her children, and Natalie and her sweet brood were no exception. Natalie wanted a mommy and me session with all 4 of her adorable kiddos. I hope she is able to cherish these portraits for years to come 🙂
I'm often reminded of just how fast life's little moments pass us by. For us moms, we often focus on pictures of our kids, and rarely want to be in the photos ourselves. I personally want to make it a goal to be in more photos with my kids in this precious time in their lives – I know I will treasure the memories years to come, as I'm sure they will also! If you are on the fence about a mommy and me session, let me encourage you to do it!  You'll be glad you did 🙂
I am so excited to be partnering up with Sara from Mint and Honey Photography for an awesome fundraiser. We will be hosting an afternoon of mini-sessions on March 7th (weather permitting). Join us to get some amazing portraits AND support two amazing causes. 50% of the proceeds will go to the Wounded Warrior Foundation and Restore Innocence.
Interested in booking a mini-sesh?  Email me at nebaughphoto@gmail.com and we can discuss some ideas to make your session personalized and unique 🙂
I look forward to seeing you there!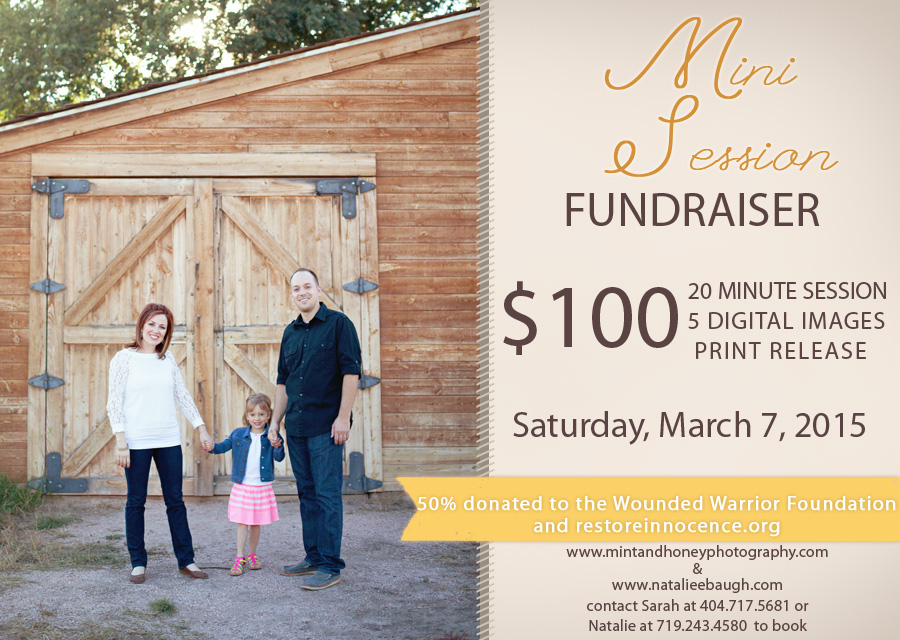 Over the weekend I got to meet Ryan and Erin, who are excitedly expecting a little girl this April.
Erin and Ryan have a beautiful love story and are just so very sweet together. Cute couple, aren't they?
Congrats and good luck on this new adventure. I can't wait to meet little Blakely!
People who know me know that I just love baby bumps.  Really, is there anything sweeter?   Most of all, I love photographing baby bumps, so naturally I was thrilled to photograph Corri and Kyle's maternity session at Ute Valley Park. They are expecting baby girl #3 this April!   Take a peak at a few of my favorites from their session 🙂
Such a fun mommy & me session in downtown Colorado Springs with RaShonda and her sweet boy. I love his silly smirks!
Here are some of my favorites!
The newsletter is ready to go out, are you signed up?
Be among the first to know of upcoming Black Friday deals, exclusive promotions, and exciting special offers! You won't want to miss this one
There are no words to express just how much I love this trio 🙂  Matt & Karie are dear friends of ours and we just love being around them – one of the many benefits of being back in Colorado 😉
I think they make the cutest little family, don't you agree?
We headed to Rock Ledge Ranch to catch the changing leaves before they disappeared. Such a beautiful setting!
I've had the pleasure of photographing the Lenninger family for going on 3 years now, and its so fun to watch the kids grow up 🙂  Marian just turned 6 so it was a perfect time to capture this special time (and to sneak in a quick one of the whole family 😉