Archive for 'family'
I've had the pleasure of photographing the Lenninger family for going on 3 years now, and its so fun to watch the kids grow up 🙂  Marian just turned 6 so it was a perfect time to capture this special time (and to sneak in a quick one of the whole family 😉
EEEEE!  I am so excited about these pictures because they are of some of my favorite people 🙂  Dawna and I have been friends for the last few years and I just think she is awesome. She's a great mama, wife, bible study leader, AND hairstylist (go check her out at Illusions Salon).   The Chester's are great friends and we are so grateful to have them in our lives!
Ready to see some photos of the sweetest family ever???  😉
I can hardly believe it – fall is upon us!  Kids are back in school, the leaves are starting to change, and the air is crisp 🙂  I'm excited for our busy season to be here, and to begin shooting so many of my favorite families and meet some new ones! Fall mini-sessions will be on September 26th and 27th, but don't wait to book as these will fill up fast!
Sessions are $125 for 20 minutes of photography and include 5 high-resolution digital images with print release, and 10% off any additional prints or products
I'm ready for the fun to begin – come join me!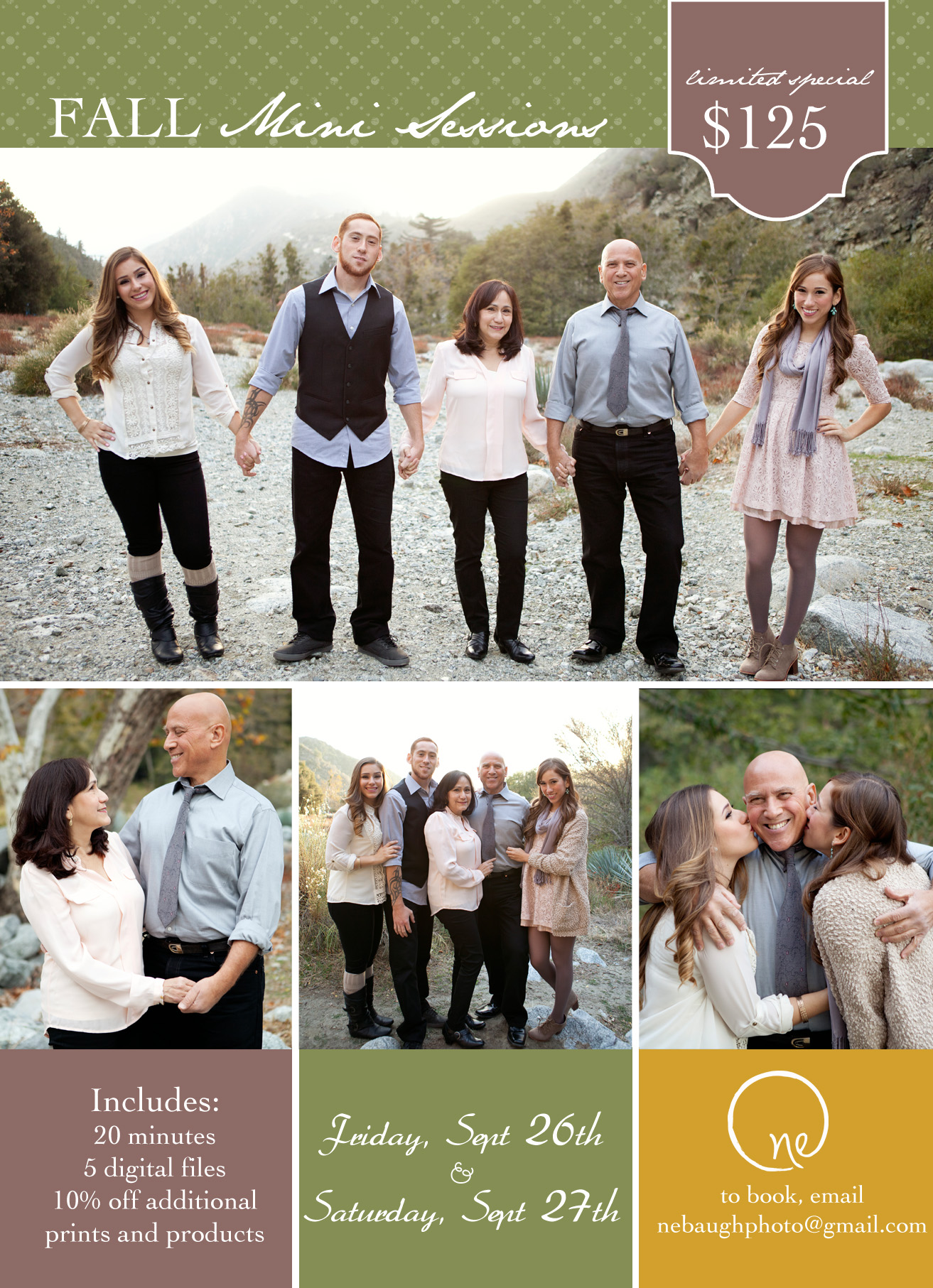 *Feel free to share this blog post with friends and family  – I offer referral incentives for every person you refer who books a session with me 🙂
We are so excited to welcome our little princess Raegan into the world!  Her big brother just adores her; she's a lucky little girl to have such a great big bro to protect her 🙂
I had so much fun shooting these cutie pies. Here are some of my favorites 🙂
It doesn't get more "fall" than the turning leaves on Mt. Baldy. I had a blast shooting this sweet family in this beautiful mountain setting 🙂
You may remember this cute couple from their engagement session here. This time I got to photograph the whole R family as part of the Holiday Mini's a couple weeks ago .  We explored a little park in the Claremont foothills, captured some of that beautiful golden sun, and had a little fun with some "snow" 😉
Check out some of my favorites from their session:
One of the biggest compliments for me as a photographer is having repeat clients. I just love getting to photograph a family at various stages of life, and especially watching their kiddos grow 🙂   The Figueroa family is one such family. I was lucky enough to get to photograph their family pictures last fall, and again just a few weeks ago for one of the Holiday Mini-Sessions.
Here are a few shots from their session:
I'm so excited to finally get to blog some of the images from my session with the adorable Partnow Family from my last trip to Colorado – love these cute people!
Here are some of my favorites:
What could possibly be cuter than an adorable little girl in cowgirl boots?  In my opinion, not a whole heck of a lot 😉  I had a blast photographing Emma and her mommy for their country themed session – check out some of my favorites: