Archive for 'Uncategorized'
Meet Hayley!  This sweet girl is a fun, bubbly junior at Doherty High School, and cheers on their varsity squad.  After graduation, Hayley plans on going to school to become a teacher.
We got lucky with one of the most perfect spring days. Living in Colorado you just never know what April has in store, so we were stoked to have a beautiful day with no wind, and better yet, no snow!
Ready to book your senior portraits?  Email me at nebaughphoto@gmail.com to inquire 🙂
There are no words to express just how much I love this trio 🙂  Matt & Karie are dear friends of ours and we just love being around them – one of the many benefits of being back in Colorado 😉
I think they make the cutest little family, don't you agree?
We headed to Rock Ledge Ranch to catch the changing leaves before they disappeared. Such a beautiful setting!
I can hardly believe it – fall is upon us!  Kids are back in school, the leaves are starting to change, and the air is crisp 🙂  I'm excited for our busy season to be here, and to begin shooting so many of my favorite families and meet some new ones! Fall mini-sessions will be on September 26th and 27th, but don't wait to book as these will fill up fast!
Sessions are $125 for 20 minutes of photography and include 5 high-resolution digital images with print release, and 10% off any additional prints or products
I'm ready for the fun to begin – come join me!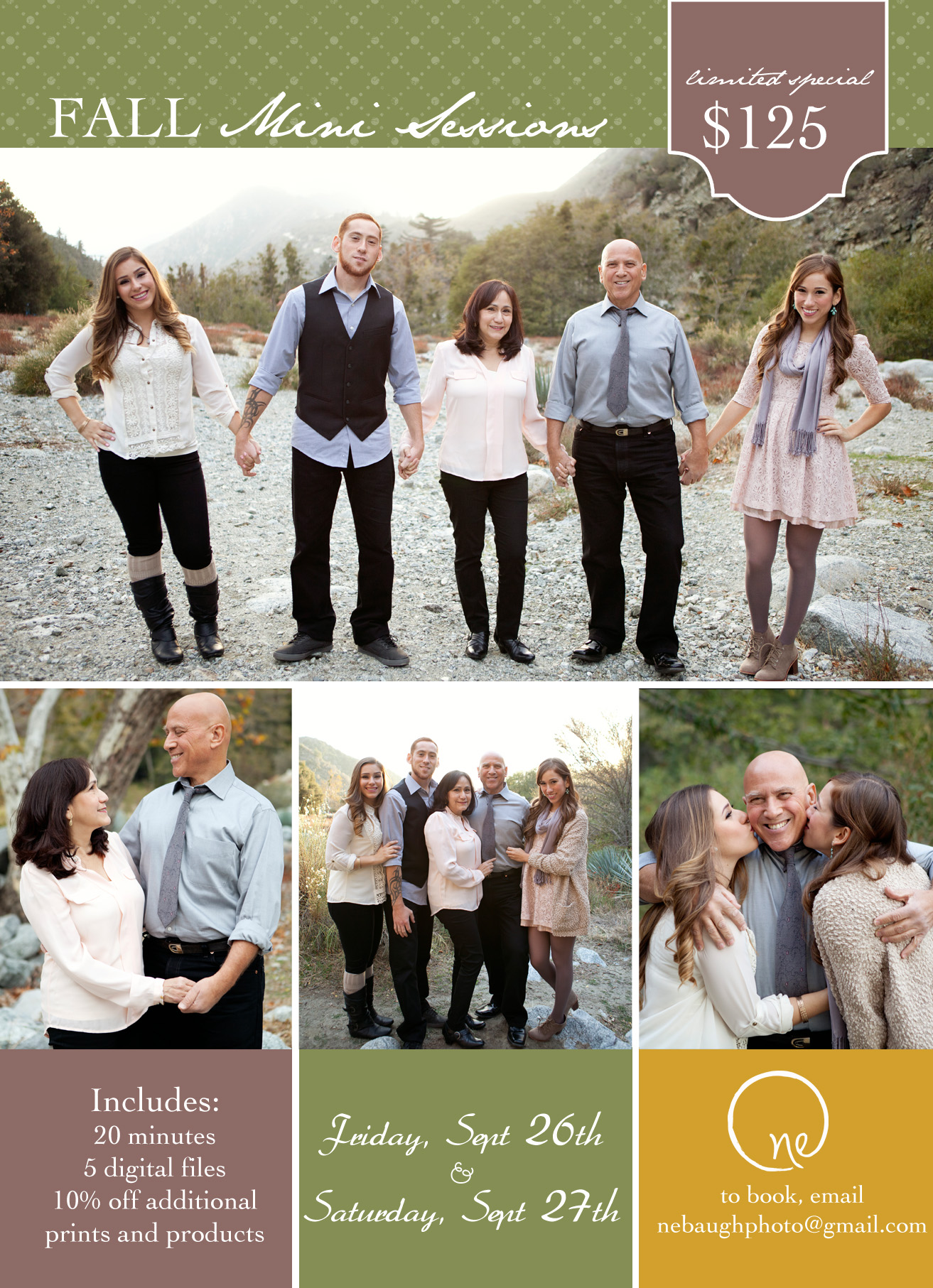 *Feel free to share this blog post with friends and family  – I offer referral incentives for every person you refer who books a session with me 🙂
If you are a high school junior, you won't want to miss out on our upcoming newsletter.
It's quick and easy to sign up, and you'll be among the first to know of upcoming promotions – what could be better?
Just fill in your info below and voila, you're set!
Subscribe to our mailing list
WARNING: be prepared to see the cutest couple on earth!
Here is Part 2 of Erin's shoot.  For the last half of her session, her boyfriend joined in, and the two of them rocked it! Aren't they so cute together?  😉
One of the most common questions I get prior to a photoshoot is "what should I wear?", and its a great question!
This Fashion Friday is all about choosing outfits that reflect your personal style. Be bold and think outside of the box – opt for bright colors and a variety of textures, fabric and patterns. And don't forget the accessories!  Hats, scarves, shoes, jewelry, etc can add so much interest to your pictures, so bring LOTS!

Take your look to the next level by getting your hair and makeup professionally done the day of your shoot; it can make all the difference, not only in your confidence, but it really gives your photos a polished look.  I recommend investing in professional artists mainly because they know how to apply makeup for the camera and can bring out your best features 🙂

So when you are planning your outfits for your shoot, go ahead and bring that fancy dress or your favorite pair of heels.  Show off your style!

Looking for some more inspiration?  Check out Polyvore and of course my fave, Pinterest. I've got inspiration boards for every type of shoot, from boudoir, senior, family and everything in between.

Check out some of these cute finds from Evoking You
Meet the Tulett's!  I loved photographing this family – they were so natural in front of the camera I could have photographed them all day 🙂
Here are my faves from their session in Claremont:
Meet the J family, one of the families I photographed for the Photogs With a Cause fundraiser.
We met up at the Claremont Train Depot for some family portraits, and ended with the kids in their super hero capes (in honor of the fallen officers).
Here are some of my favorites from their session:
Need pictures? Want to be a part of something awesome? Help us honor those who gave all by taking part in the Photogs With a Cause fundraiser!

A group of local photographers, including myself, will be doing hero themed mini sessions in honor of our fallen heroes Officer Crain and Detective MacKay. 100% of the proceeds will go to their families.
A $100 donation gets you a 30 minute session (kids, family, senior, maternity, or engagement), and 10 high resolution digital files with print release.  Check out the website for more info and to book!
If you would, please also take a moment and share this info with your friends and family so we can get the word out.  This is a wonderful way to give back to our community and honor our heros!
http://www.photogswithacause.com/2013/02/natalie-ebaugh-photography.html
Ladies, there are just two spots left in the upcoming Boudoir Bash on the 26th!  Email me at nebaughphoto@gmail.com to book.
If you've always wanted to do something like this, don't wait! You won't want to miss it