Archive for 'engagement'
Courtney and Travis met through mutual friends, and their love story is one of a kind!  On their first date, they were pulled over on the way to the restaurant – while Travis was worried about getting a ticket, Courtney, being the jokester, thought it was hilarious and took a picture of them and even tried to high-five the cop 😉
Travis proposed to Courtney on a beautiful hillside in Fredericksburg overlooking the gorgeous scenery. As Courtney dreamed out loud about wanting to build a house right where they stood, she turned to look at Travis and he was holding her ring!  It was there that he asked her to be his bride.
Courtney and Travis were married at Twisted Ranch in an intimate chapel ceremony. They utilized all areas of the gorgeous property to entertain their guests, from a photo booth in the jail, to a candy/snack bar at the general store. We even got a visit from the resident buffalos!
Courtney and Travis, thank you so much for allowing me to capture your special day!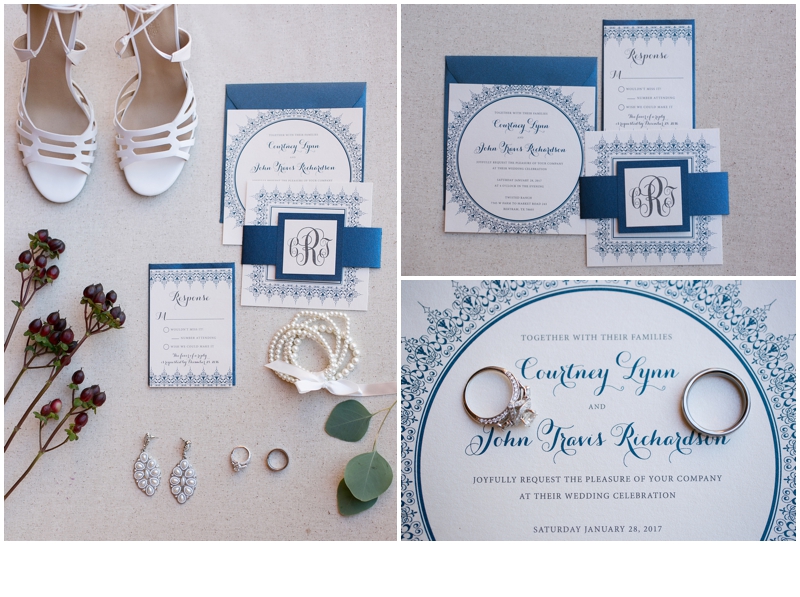 A girl who likes to laugh this much is OK is my book!  I had a blast shooting Courtney's bridal portraits at her venue, Twisted Ranch in Oatmeal, Tx. It was a chilly day, but she was a trooper and could not have looked more gorgeous in her stunning fitted dress.
Before moving out to Texas, I had the opportunity to photograph an amazing styled bridal shoot in Colorado Springs. There was anything from a vintage inspired vignette to a steampunk themed vignette 😉   Here are some of my favorites from the day
I am so excited to be partnering up with Sara from Mint and Honey Photography for an awesome fundraiser. We will be hosting an afternoon of mini-sessions on March 7th (weather permitting). Join us to get some amazing portraits AND support two amazing causes. 50% of the proceeds will go to the Wounded Warrior Foundation and Restore Innocence.
Interested in booking a mini-sesh?  Email me at nebaughphoto@gmail.com and we can discuss some ideas to make your session personalized and unique 🙂
I look forward to seeing you there!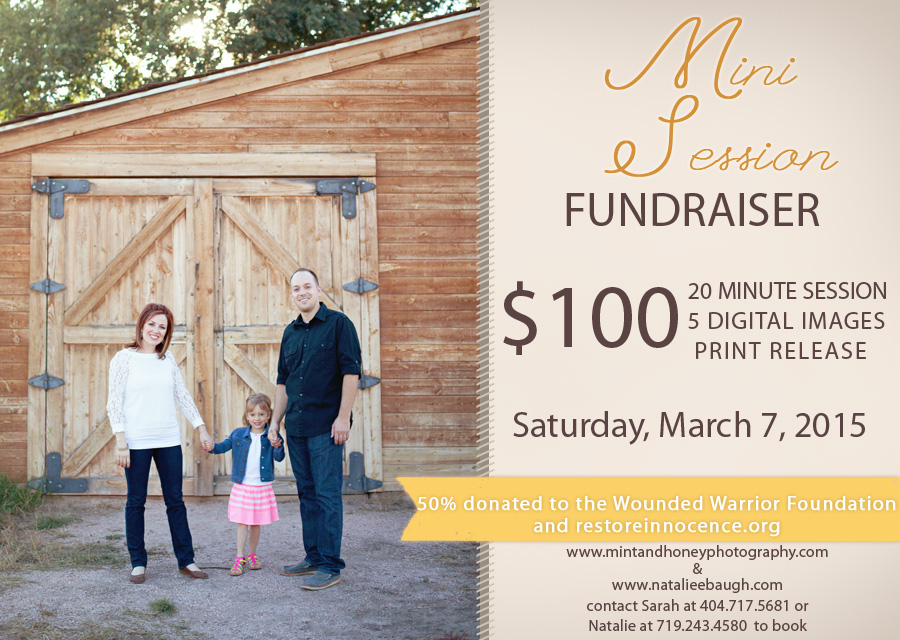 Welp, I think its safe to say that we are officially in snowy season!  Time to put away our warm weather clothes and bust out the scarves and coats 😉
Just before the snow hit Monday, I got to photograph this adorable couple in downtown Colorado Springs. You'd never know it was in the 40's because they sure heat things up!   Looking forward to your winter wedding, Hannah & Rick. Congratulations on your engagement!
The newsletter is ready to go out, are you signed up?
Be among the first to know of upcoming Black Friday deals, exclusive promotions, and exciting special offers! You won't want to miss this one
I can hardly believe it – fall is upon us!  Kids are back in school, the leaves are starting to change, and the air is crisp 🙂  I'm excited for our busy season to be here, and to begin shooting so many of my favorite families and meet some new ones! Fall mini-sessions will be on September 26th and 27th, but don't wait to book as these will fill up fast!
Sessions are $125 for 20 minutes of photography and include 5 high-resolution digital images with print release, and 10% off any additional prints or products
I'm ready for the fun to begin – come join me!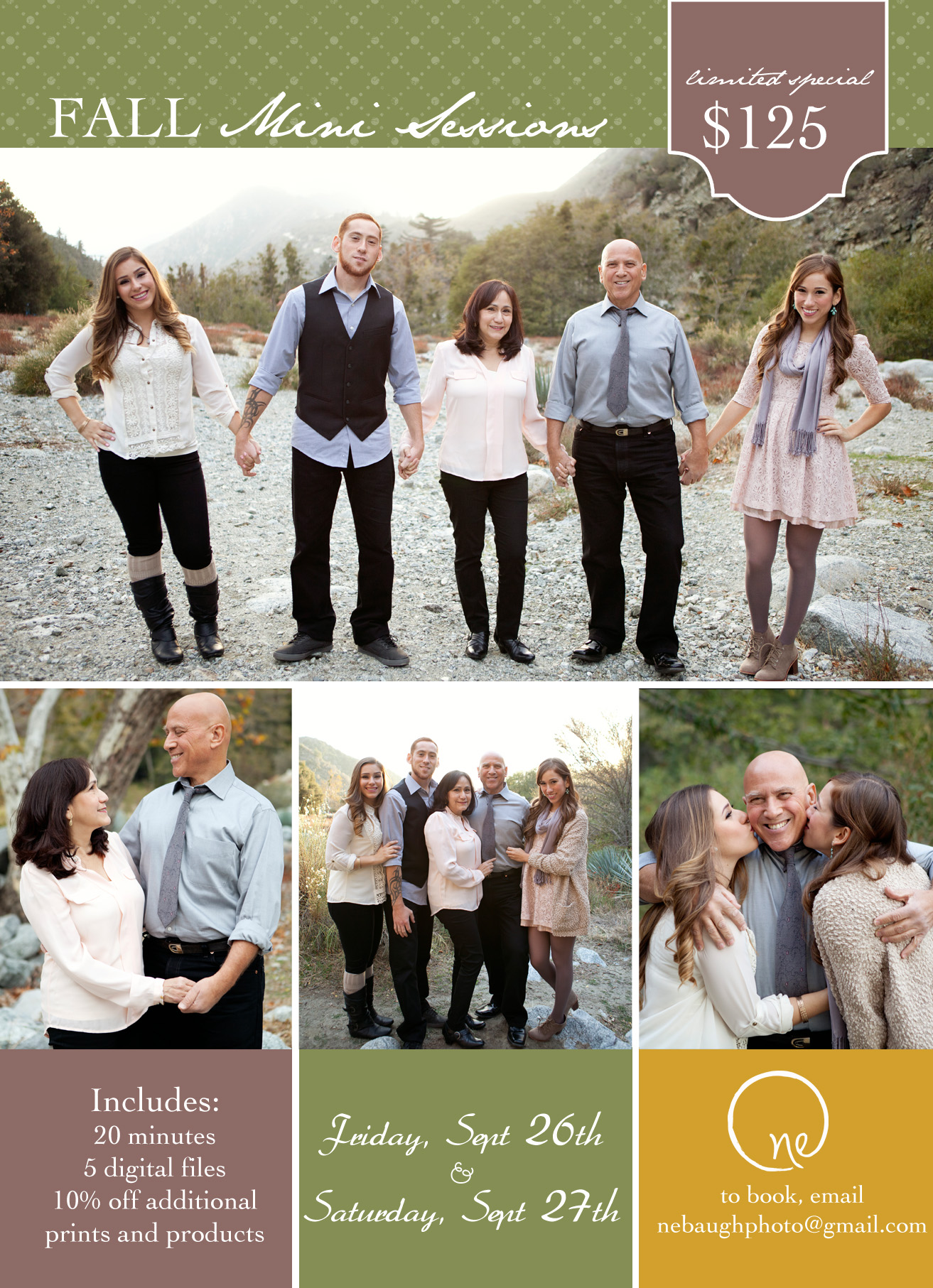 *Feel free to share this blog post with friends and family  – I offer referral incentives for every person you refer who books a session with me 🙂
My favorite time of year is upon us! The pumpkins are out, there is a chill in the air, and Holiday Mini Sessions are now open for booking 🙂
I will be offering a limited number of mini portrait sessions this November 9th! These are perfect for:
-Families looking for a few amazing photos for their holiday cards
-Moms-to-be who want maternity photos
-Engaged couples needing a few photos for their save-the-date cards
-Anyone who has been putting off getting updated professional photos
The deets:  20 minute sessions in the Claremont area. These sessions include 5 digital images with a print release and 20% off any additional products. PLUS, bring new school supplies, toiletries or small toy donations for our Operation Christmas Child collection and I'll also include a 5×7 print of your choice!
I will also have props available (vintage couch, blankets, Christmas banner, etc). To book, click on the CONTACT tab or email me at nebaughphoto@gmail.com. Spots will fill up fast, so don't wait. I can't wait to spend some time with your precious family!
If you're anything like me, you get bored of the same old picture styles and poses. That's why today's guest post is all about adding interest to your photos with props. Props can add a bit of the unexpected to your photos and help tell your story. Clarissa from Coco Sailore (an ADORABLE Etsy store offering handmade curios such as vibrant mason jars, cheerful pennant banners, colorful garlands, and fun DIY kits) provides insight on how to personalize your photo session!
My dad has a picture of six of his younger siblings ranging from high school to elementary school age, each holding an item that was important in their lives at that time: a flute, basketball, trophy, etc. Growing up I loved looking at that picture because it revealed a peek into the younger lives of my aunts and uncles. Props in family photos don't have to be meaningless; they're a great way to visually preserve a special time in your family's life. Are you an artistic family? Stage a whimsical photo shoot! Does your family like to have a good time? Throw in a festive pennant banner! Every family has something that makes them feel united. Show it!

My most adored family photos from my blossoming marriage were taken in an old triplex apartment that we used to live in. The first time my husband introduced me to our post-honeymoon residence, I nearly died. It was putrid green, run down, and the bathroom was literally a water closet. But after three years I was in love with the place, with its charm and little nuances. Before we moved out of state we decided to take family photos around our beloved apartment doing some of our favorite things: reading books, playing Scrabble, baking homemade bread, and dancing to our vintage records. Those photos mean the most to me because our props were a part of what made our first few years of marriage special.

Photographs can potentially capture the best and the worst in family sessions. To the chagrin of my parents, my Minnie Mouse teddy will always be in our formal extended family photos. (But now it's cute to look at the pouty-face 3 year-old whose doll was being threatened to have taken away if she didn't cooperate with the photographer. I mean, it is cute…right, Mom?) As you consider the props you want in your photos remember that you and your family's style changes, obsessions may fade, and there's no looking back. Embrace this wonderful moment in your family's

lives.




Check out

Coco Sailore

 and browse Clarissa's beautiful hand made pennants and garland – all of which can double as props for your shoot, as well as brighten up your home 🙂 
Check out more from the Gage's styled session here 
"The best thing to hold onto in life is each other."
Audrey Hepburn 
Let me first say, I loved this session. These two are just so sweet and natural together, so its no wonder that I have TONS of photos from their engagement session to share with you 🙂
Tom and Alejandra will be getting married in Cabo this summer, and I'm sure it will be a beautiful beach wedding!