Archive for 'fashion'
Meet Hayley!  This sweet girl is a fun, bubbly junior at Doherty High School, and cheers on their varsity squad.  After graduation, Hayley plans on going to school to become a teacher.
We got lucky with one of the most perfect spring days. Living in Colorado you just never know what April has in store, so we were stoked to have a beautiful day with no wind, and better yet, no snow!
Ready to book your senior portraits?  Email me at nebaughphoto@gmail.com to inquire 🙂
What do you get when you mix a beautiful setting, pretty floral crown, and a hint of spring?  You get some amazing "swoon-worthy" images, but the soft light, slight breeze, and beautiful model is what really made this session magical.
I've been itching to do something different…something a little boho chic…something earthy and soft. Lucky for me, Alison was game!  For her portraits, we decided we wanted a soft and romantic look, so we went with a beautiful floral crown, adored with pale pink flowers to complete the look.
Alison will be graduating nursing school this Spring, and wanted some portraits to celebrate this special time 🙂   What a great way to commemorate this milestone
Congrats Alison!
Ready to book one of these sessions for yourself? Email me at nebaughphoto@gmail.com!
Alright ladies, now is the time to sign up for the b-bash! Spots are limited, so don't wait to get signed up 🙂
I'm so excited for this years Valentine's Boudoir Bash!
Its time to let out your inner bombshell and come get pampered with professional hair and makeup and enjoy a fun, relaxed personalized photo shoot!
Step out of your comfort zone and do something wonderful for yourself, while creating an unforgettable gift for your honey that will leave him speechless! Don't miss this opportunity to give your man the best Valentine's gift ever
Bring a friend and make it a girls day out! It'll be a time of pampering, champagne and chocolates, and a fun shoot! When you refer a friend (who also books a session), you'll both receive a complimentary 8×10 mounted gift print
Stay up to date with the event happenings at our Facebook page here
All packages include
-Custom session styling
-A chic hotel room
-Champagne and chocolates
-Swag bag
-NEP Boudoir Catalog
-Password protected online gallery
Packages:
Vixen $595
1 hour of photography
Professional hair and makeup
Unlimited outfit changes
A custom flash drive with 10 digital images with printing rights
Beautiful leather 10″x10″ layflat album
11″x14″ Float Wrap
20% off any additional product(s)
Sultry $375
1 hour of photography
Professional hair and makeup
3-4 outfit changes
5 digital images with printing rights
15% off any product(s)
Flirty $295
1/2 hour of photography
Professional hair and makeup
2 outfit changes
2 digital images with printing rights
10% off any product(s)
A 50% deposit is required to book (contact us for payment plans).
*Due to the nature of this event, I must have 3 participants to have the Boudoir Bash.
Contact me to reserve your spot today! Nebaughphoto@gmail.com or 719.243.4580
Check out some testimonials from past clients
Meet Aubrey, a senior at Rampart High School, a guitar player, and an all-around awesome girl!  I met up with Aubrey at the beautiful Broadmoor Hotel in Colorado Springs. She wanted to show off her gorgeous prom dress, and the Broadmoor was the perfect location for such a gown 🙂
Take a peek at some of my favorites from her session 🙂
Good luck in all your future endeavors, Aubrey!
I can hardly believe it – fall is upon us!  Kids are back in school, the leaves are starting to change, and the air is crisp 🙂  I'm excited for our busy season to be here, and to begin shooting so many of my favorite families and meet some new ones! Fall mini-sessions will be on September 26th and 27th, but don't wait to book as these will fill up fast!
Sessions are $125 for 20 minutes of photography and include 5 high-resolution digital images with print release, and 10% off any additional prints or products
I'm ready for the fun to begin – come join me!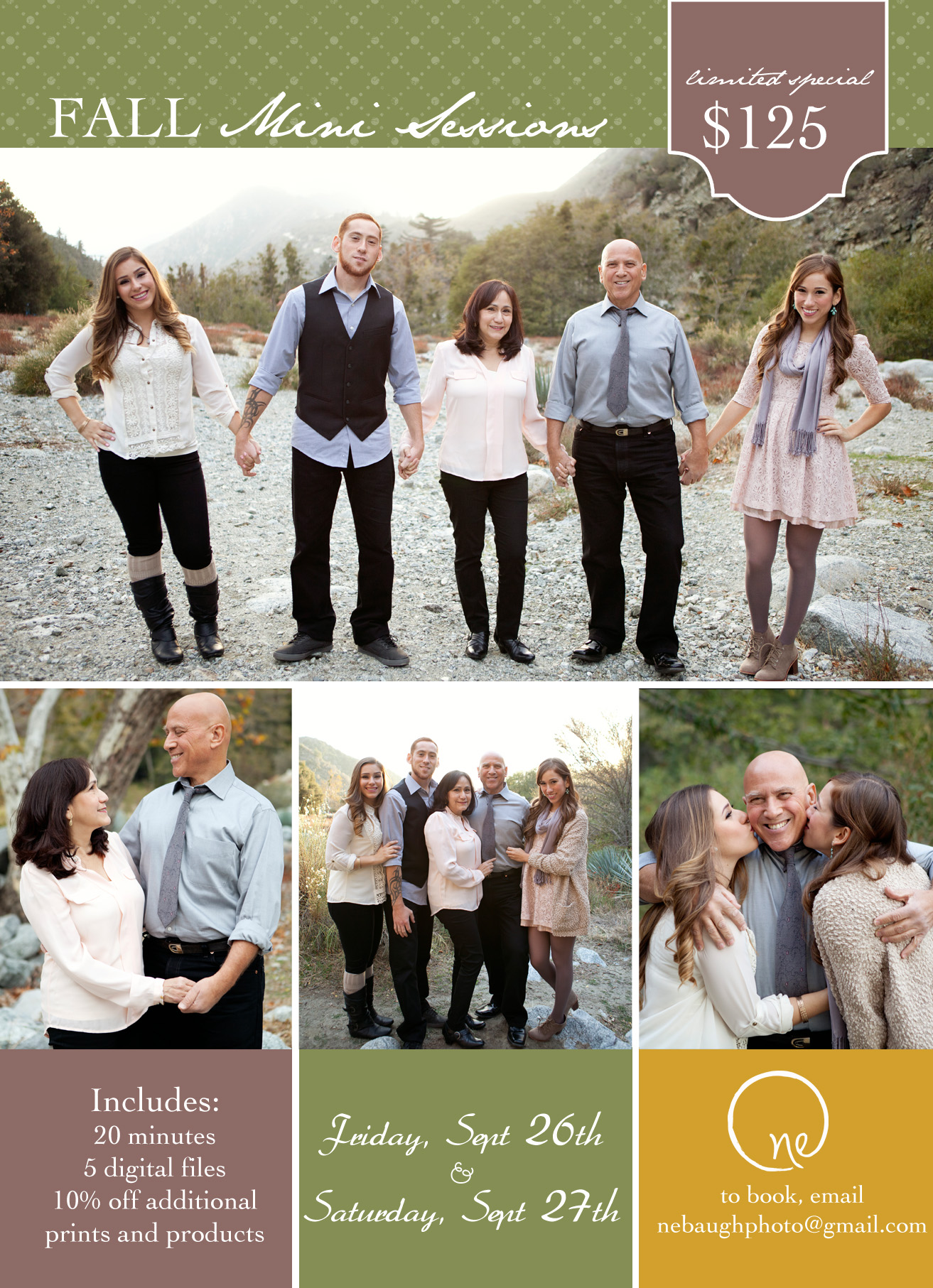 *Feel free to share this blog post with friends and family  – I offer referral incentives for every person you refer who books a session with me 🙂
I am so excited to share a few sneak peeks from my session with my good friend, Karisa!  In addition to traditional boudoir photography, I am now introducing Glamour Photography to my portfolio. Combine professional hair, makeup, expert posing, and beautiful light to make you feel gorgeous inside and out! As with boudoir photography, glamour photography is about giving a women a moment that is all about her. Its about sitting and relaxing while you get pampered and "glammed" up by professionals, who will enhance your natural beauty and bring out all of your fantastic features.  And while these sessions are about pampering and feeling beautiful, they are also about doing something for yourself. Most women are usually only photographed professionally for senior portraits and on their wedding day. Think about what it would mean to have had more photographs of your mother or even grandmother. Lets create some gorgeous images, not only for YOU, but for your children and grandchildren years from now.
So book a session for yourself – let your images be a daily reminder that you are BEAUTIFUL!
Today's Fashion Friday post is for you High School Senior girls, and specifically how little details can add to your shoot.
Check out this post from Seniorologie, where they discuss the latest trends in nail art and colors for the season.  Comment and let me know what you think of their tips!
Is there anything cooler than getting to shoot in an abandoned zoo?  Seriously, this was one of the coolest places I've ever shot at!  I feel lucky that I get to be a part of an awesome network of photographers in the Inland Empire – its so great meeting fellow photogs and going on group shoots like this one.  Check out some of my favorite shots
One word to describe Mae…FIERCE! I absolutely loved shooting this gorgeous senior – she's got some rockin' style and and even more rockin' personality! And those lashes? Really?  I'm totally jealous 😉
Anyways, we shot her session in an alley in downtown Riverside and Mae was a natural. I'm telling you, this girl does not take a bad picture.
Hope you love these, Mae!